Companion Therapy Laser
This is a great video for learning more about the Companion Therapy Laser that so many of our clients use for their pets.
Companion Laser Therapy
As the nimble problem-solver on your team, laser therapy (photobiomodulation therapy), is fast-acting and versatile. This doctor-prescribed, technician-driven modality effectively treats a wide variety of conditions including pre-surgical, post-surgical, acute, and chronic disease states. Wow your clients with this proven therapy that wins favor with fast results, non-invasive delivery that patients enjoy. And did we mention cute eyewear that clients love?
Photobiomodulation (PBM) therapy results are achieved when a sufficient dose of light energy reaches target tissue and results in decreased inflammation, decreased pain, and accelerated healing. Companion's patented delivery system and detailed, species-specific protocols provide answers to dosing challenges that result in the best outcomes – every time. Superior outcomes are easily achieved on a wide variety of conditions, making the return on investment for a therapy laser better than any other piece of capital equipment in veterinary practice. Get your return on investment consultation today.
Clinical Applications
Laser therapy can effectively reduce pain and inflammation associated with a variety of acute and chronic conditions, including: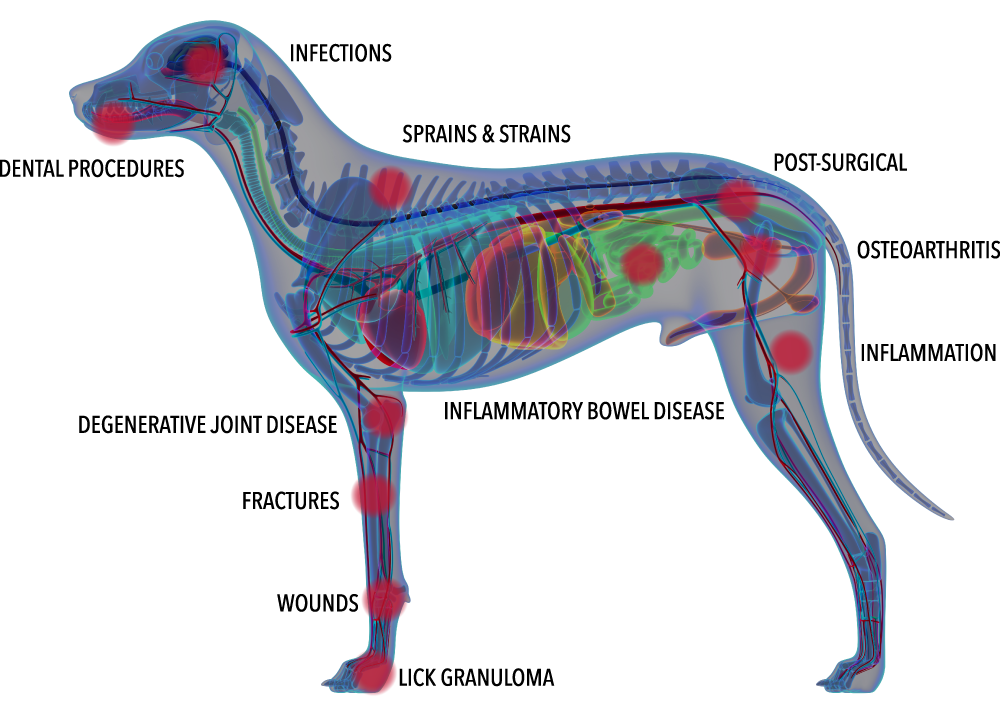 Clinical Benefits
Laser Therapy accelerates the body's natural healing process through photo-bio-modulation. Laser therapy provides tangible benefits to your patients, your clients, and your practice. Laser therapy is effective in treating:
Chronic conditions
Acute conditions
Post- surgical pain
Inflammation
Non-pharmacologic pain relief
Effective for difficult conditions
Alternative to surgery
Fast treatment times
Easy, comfortable, non-invasive treatment
Scientifically-proven
Common Uses
Help your pet heal with therapy laser. Drug Free. Surgery Free. Relief for your pet. Therapy Lasers have been scientifically proven and successful in treating post-surgical pain and many acute and chronic conditions.
Acute Conditions
Wounds, Allergies
Infections, Cuts/ Bites
Inflammations
Tooth Extraction Pain Relief
Sprains, Strains & Fractures
Post-Surgical Healing / Pain Relief
Chronic Conditions
Degenerative Joint Disease
Inflammatory Bowel Disease
Periodontal Disease
Lick Granulomas
Geriatric Care
Hip Dysplasia
Feline Acne
Tendonitis
Arthritis